Hoppa Price Comparison Site for Car Hire Services & Airport Transfers
Hoppa is rather like a price comparison site for car rental and airport transfers, comparing thousands of transport providers from all over the world to help you make the right choice and also pay the lowest prices.
Originally known as "Resorthoppa", the company started as a worldwide airport transfer provider back in 2004. The service has rapidly grown to provide a fantastic booking engine for car hire services around the world. At the touch of a button, you can search, compare and book rides all over the world.
Hoppa Car Hire Promo Codes for Car Hire Service
Are you searching for a Hoppa promo code discount? Here comes the good news because we have partnered with Hoppa to bring you discount codes and promotions throughout the year. Not only that, we provide you with a handy guide on how to use and submit the codes, because the code entry field is tucked away and you won't find it immediately as you browse and navigate your way around the site.
How To Enter a Promo Code at Hoppa
To start, please visit the official website as normal: Hoppa.com.


Now please select the service you require, 'Rides & Airport Transfers' or 'Car Hire'.


Using the website search bar, enter your pickup location, pickup date etc and click 'Search'.


Now the system will search through thousands of deals and prices to find the best offer or you.


Choose the vehicle you require and you will reach the 'Passengers & Payment' area.


This is where it gets interesting because you can enter a discount code on this page.


Just underneath the payment section, it says 'Enter promo code here'. Simply enter the code and click 'Apply Code'.


And that's it! The 'Total To Pay' will be reduced accordingly and also keep in mind the website runs regular discount offers (please see below).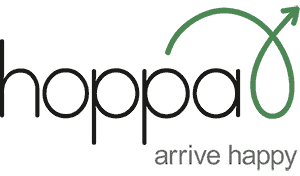 25% To 35% Discount Promotions
The website frequently runs price reduction promotions which can include 'Weekend Sales', 'Payday Sales' along with special offers for public holidays. The typical discount range is 25%, 30% and even 35% discount. You can't miss these offers because they are splashed across the home page with a countdown clock showing the days, hours, minutes and seconds remaining before the deal expires.
Learn More About Hoppa
To get a better understanding of the company philosophy, let's explore the five promises Hoppa makes to its customers.
In their own words:
1. Simple straightforward online booking - we've built our new website based on what our customers think. And we're always looking for new ideas too
2. A wide range of quality transport at sensible prices - our team compare prices weekly to make sure you're never paying more than you need to. Something we don't have? Let us know
3. Transport always confirmed pre-flight and found straightaway on arrival - at Hoppa our job is to make sure you enjoy a smooth and relaxing journey. It's what we do
4. Easy to contact, easy to deal with and available 24/7 - our fantastic, friendly customer service team will make sure you're taken care of
5. A guarantee it all works or your money back - we know how important your journey is, so we'll always give your money back if something goes wrong.