OK Rent a Car Promotional Code SAVE 10% EXTRA Discount
If you're searching for a promo code discount for OK Rent a Car rental hire services, you've come to the right place. CarHireMoneySaver.com is pleased to announce we will now promote a new promotional code which provides 10% extra discount on top of the discounted offers already posted on the website at OKrentacar.es.
OK Rent a Car has recently featured multiple offers ranging from 10% to 20% markdown and this means you could save up to 30% price reduction on rental rates if you use the 10% code below:
View Promo Code & Open Site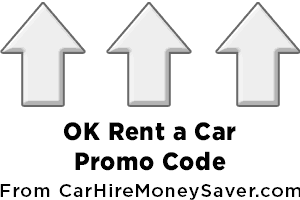 How to Enter a Promo Code at OK Rent a Car

Please visit the official website as normal: OKrentacar.es.


Start by choosing a location for your car rental.


Next, please choose a 'Pickup Date' and a 'Pickup Time' (Early Morning, Morning - Afternoon or Evening).


In a similar manner, now choose a 'Return Date' and a 'Return Time' (Early Morning, Morning - Afternoon or Evening).


Next, please choose your preferred car from the list and click the [Book] button. Please notice the cars may already have a discount of -10% to -20%.


On the left side of the screen, please add the code above where it says [Promotional Code] and then click the [Apply] button.


Congratulations, your car rental has just been reduced by an EXTRA 10% DISCOUNT.


Simply use the [Add] button for any additional service features you require, such as 'Road Assistance', 'GPS', 'Baby Seat', 'Young Driver' etc.


Finally, please click the [Continue] button to take your discounted hire car into the secure payment area to finalise your purchase.

Español: [RESERVAR] >> [Código Promocional] >> [Aplicar] = 10% de descuento (PLUS < -10% - 20% promo).
Français: [RÉSERVER] >> [Code Promo] >> [Appliquer] : code de réduction = 10% de rabais (PLUS < -10% - 20% promo).
Deutsch: [BUCHEN] >> [Gutscheincode] >> [Anwenden] : aktions-code (gutscheine-rabatt) = 10% rabatt (PLUS < -10% - 20% promo).
Português: [RESERVAR] >> [Código Promocional] >> [Aplicar] : código de desconto = 10% de desconto (PLUS < -10% - 20% promo).
Italiano: [RESERVAR] >> [Codice Promozionale] > [Aplica] : codice di sconto = 10% di sconto (PLUS < -10% - 20% promo).
Car Hire Service Benefits
Lowest Prices - regularly adjusted prices to provide the most competitive rates.
Always New Cars - 90% of the car fleet does not exceed 6 months old.
Guaranteed Category - they assure you that you will have the chosen booked automobile category, or you get a superior car!
Premium Equipment - the vehicles fully equipped with modern features for your safety and comfort.
Most Popular Car Rental Office Locations in Europe
The company has a growing network of offices in Spain, Portugal and Italy:
OK Offices In Spain: A Coruña # Alicante # Asturias # Badajoz # Barcelona # Bilbao # Formentera # Girona # Granada # Ibiza # Madrid # Mallorca # Málaga # Melilla # Menorca # Murcia # San Sebastián # Santander # Santiago de Compostela # Sevilla # Valencia # Valladolid # Zaragoza
OK Offices In Portugal: Faro # Lisboa # Oporto
OK Offices In Italy: Roma # Milán
With a large network of offices in strategic locations across Europe and a large fleet of modern cars, this rental company is ideally positioned to offer an excellent auto rental service to business people, private individuals (single drivers, couples and families) and international tourists.
Learn more and view the latest auto rental offers when you visit the official website: OKrentacar.es
.