Worldwide Discount Codes for Car Hire & Auto Rental Services
OK RENT A CAR World Exclusive 15% Promo Code + 20% Discount
Let's start with a world exclusive because today CarHireMoneySaver.com is giving you the opportunity to SAVE 35% at OK Mobility (OK Rent a Car) across Europe in any language.
CarHireMoneySaver.com DEAL OF THE MONTH
OK let's take you straight to the best deal on offer, exclusively available when you book direct at OKmobility.com (OKrentacar.es) in your choice of language and currency:
OK RENT A CAR 15% Promo Code + 20% Discount = 35%
OK Mobility (a.k.a. OK Rent a Car) has recently featured multiple offers ranging from 10% to 20% markdown and this means you could save up to 35% price reduction on rental rates if you use the exclusive 15% code below:
View Promo Code & Open Site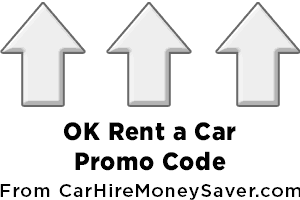 Español: [RESERVAR] >> [Código Promocional] >> [Aplicar] = 15% de descuento (PLUS < -10% - 20% promo).
Français: [RÉSERVER] >> [Code Promo] >> [Appliquer] : code de réduction = 15% de rabais (PLUS < -10% - 20% promo).
Deutsch: [BUCHEN] >> [Gutscheincode] >> [Anwenden] : aktions-code (gutscheine-rabatt) = 15% rabatt (PLUS < -10% - 20% promo).
Português: [RESERVAR] >> [Código Promocional] >> [Aplicar] : código de desconto = 15% de desconto (PLUS < -10% - 20% promo).
Italiano: [RESERVAR] >> [Codice Promozionale] > [Aplica] : codice di sconto = 15% di sconto (PLUS < -10% - 20% promo).

How to Save Money on Auto Rental Rates
This website is dedicated to providing you with the lowest prices at the world's leading car rental companies, including OK Rent a Car, Centauro Rent a Car, InterRent, Hotelopia, LMT Club, Logitravel, Hertz, Fox Rent A Car and QEEQ. Now let's take you to our next premium offer, yet another world exclusive when you book online at Last Minute Travel:
LastMinuteTravel.com Promo Code SAVE $50 DISCOUNT
Are you searching for a promo code for the car rental service at LastMinuteTravel.com and LMT Club? Make sure you join the club to get exclusive members-only rates on travel services and we have a free membership promo code for you worth $50 per year: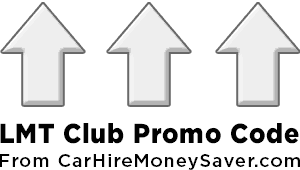 When you join the club at LastMinuteTravel.com, you get access to the best rates, it's that simple! Last Minute Travel Club deals with the most popular auto hire firms across the world and their search tool allow you to browse and compare the best rental rates from a huge database of car rental suppliers.